1. Moose Point State Park
Open 9:00 a.m. to sunset daily from Memorial Day to October 1st. Fee Charged. Visitors may continue to enjoy the park during the off season by parking outside the gate and walking in during these same hours. Please be aware that facilities are closed during the off season.
Take a break at Moose Point State Park to enjoy an afternoon picnic and the views of Penobscot Bay. Located off US Route 1, Moose Point is a popular place for travelers along this scenic coastal route. Relax in an evergreen grove, explore tidal pools, take a walk on the park's trails, or just enjoy the views.
Sears Island offers visitors
Easy access by causeway with parking
Miles of quiet, wild shoreline
and several easy-to-moderate trails to explore
Wildlife watching and historic sites
Dogs permitted; horseback riding on roads
Abundant botanical and geological features
Outdoor activities all year long, such as
picnicking, kayaking, and snowshoeing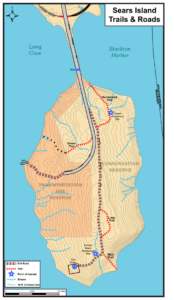 3. Fort Knox and Penobscot Observatory
Taller than the Statue of Liberty!
The Penobscot Narrows Bridge and Observatory is the crown jewel of coastal Maine, offering spectacular 360-degree views of the Penobscot River and Bay, the Maine countryside and the distant western mountains. Tourists and travel writers alike have been attracted to the unique character of this structure, its historical significance and the stunning vistas. Engineering and transportation geeks are fascinated by the award-winning and innovative design. Visitors of all ages and interests will enjoy this unique campus that includes: -the tallest public bridge observatory in the world;
-historic Fort Knox;
-picnic tables and grills;
-a diversity of interpretive panels explaining the history of the region, natural wildlife of the area and more;
-a covered pavilion for hosting family reunions, small weddings and other special events; as well as
the perfect backdrops for your vacation or family photos.
4. Sandy Point Beach and Stockton Harbor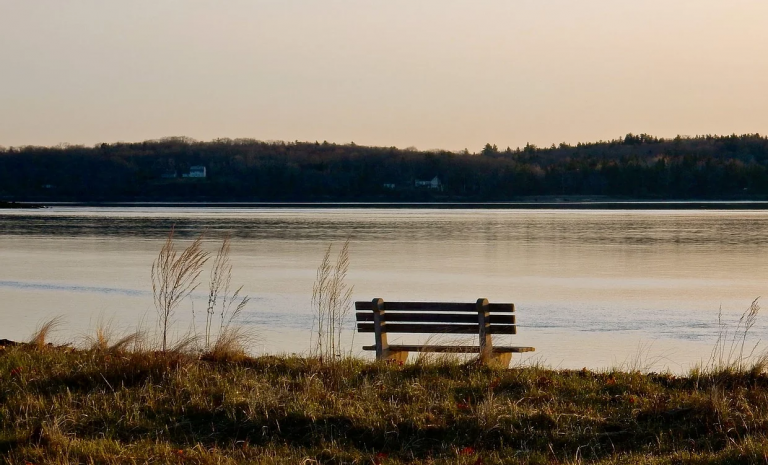 Sandy Point Beach lies on the Penobscot River just across from Verona Island. This is a 100-acre preserve along a sand and gravel  beach open to the public. You can swim, picnic and sunbathe at this pocket beach, which is tucked between rocky headlands. You can also enjoy windsurfing on this wide stretch of river.
Visit beautiful Stockton Harbor by car or bicycle.  Great harbor for kayaks, sailboats and smaller motor boats.  Boaters can use the new Solar powered Pump-out Barge. Please call Harbor Master Les Bryant at 207-323-1132 if you have questions.
Swan Lake State Park is nestled on scenic Swan Lake. Visitors can enjoy swimming area with lifeguard supervision, picnic sites with grills and walking trails. Toilets and changing facilities are also available for use. For large gatherings, a private group shelter (fee charged) equipped with volleyball, horseshoes and a handicapped accessible toilet are available.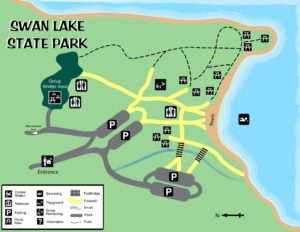 6. The Armistice Footbridge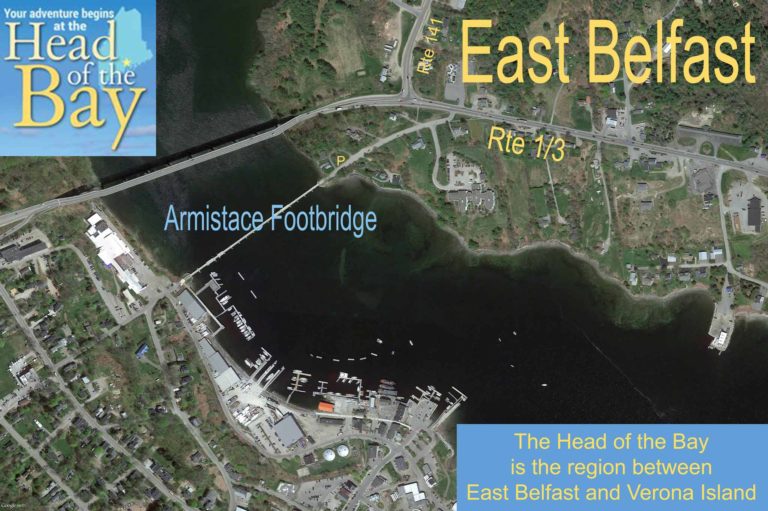 The bridge that had been the original 1921 US Route One highway bridge had been decaying and in need of removal or replacement for many years. After a long public process including a public referendum the bridge was rebuilt in 2006 thanks to the prescient foresight by dedicated volunteers, City of Belfast committees, and the people of Belfast and rededicated as Armistice Footbridge with grant fanfare in 2010.
The engraved "bricks" at either end of the Armistice Footbridge are part of the Belfast Harbor Walk and in the future will connect with the Passy Rail Trail.
7. Hamilton Wharf and Mosman Park
Searsport offers some great access to the ocean. Two of these spots are Mosman Park and Hamilton Wharf. The park offers a super playground along with a ball field, picnic area and small sandy beach. For shore fishing or a convenient boat launch head down to Hamilton Wharf.
8. Fort Point State Park and Light House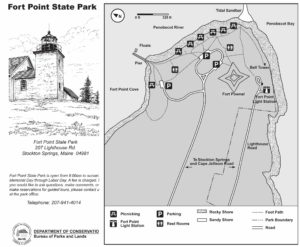 Open 9:00 a.m. to sunset daily from Memorial Day to Labor Day. Fee Charged. Visitors may continue to enjoy the park during the off season by parking outside the gate and walking in during these same hours. Please be aware that facilities are closed during the off season.
Picnic tables with a waterfront view, pier and floats for fishing and boating, and access to a scenic bicycling trip are some of the top reasons to visit Fort Point State Park. Located about three miles off U.S. Route 1 in Stockton Springs, and named for the point of which Governor Thomas Pownall established Fort Pownall in 1759, Fort Point State Park occupies a long peninsula with panoramic views of the Penobscot River and Penobscot Bay. On its 120 acres, the park features more than a mile of rocky shore, a tidal sandbar, and diverse habitat for a variety of plants and animals. Opened in 1974, the park also includes Fort Point State Historic Site and the Fort Point Light Station.
The remains of Fort Pownall contain interpretive panels and a stone marking the original burial site of General Samuel Waldo for whom Waldo County and Waldoboro are named.
Just a short walk from the parking lot, visitors can relax at riverside picnic sites and fuel up for hiking, sightseeing, bicycling, fishing, or paddling. Gentle trails lead hikers through field and forest to rocky shores and historic sites. Interpretive signs describe Fort Point's history as a military, maritime, and tourist center. Using the roads, bicyclists leave the parking lot to ride to the lighthouse or to begin the seven-mile loop around Cape Jellison. Winter visitors go cross-country skiing on the park's hiking trails and closed roads.
9. The Museum in the Streets, Searsport
Follow this walking tour along the streets of Searsport and visit 17 of our many historic places. The Museum In The Streets is designed as a bilingual history walking tour. The text on all the panels is in both English and French.
10. Penobscot Marine Museum
Penobscot Marine Museum brings Maine's maritime history to life on a campus of beautiful historic buildings in the charming seacoast village of Searsport, Maine. Exhibits throughout the campus tell unique stories of ship captains and their families, the industries of Penobscot Bay, global maritime trade, and today's fisheries.
The Museum also develops changing seasonal and traveling exhibits and conducts educational outreach throughout Maine. The Museum has over 200,000 historic photographs, an extensive collection of maritime artifacts and archives, and a maritime history research library. The Museum offices and research library are open year-round. Exhibits are open seven days a week, Memorial Day weekend through the third Sunday in October. Check out their website